Could The Walking Dead Really Happen?
Zombies are all the rage, and they have been for a few years now. The inevitable zombie apocalypse has inspired more products,

preparedness guides

and designs than we can count, but none of us actually think a zombie apocalypse is possible, right? Scientists have come out many times and said that it would be impossible for our bodies to walk around after we're dead moaning and craving fresh flesh and brains. I mean, sure, after we're dead a body part might spasm for a moment or something, but that is light years away from how we would imagine ourselves zombified.
I recently read an interesting article here on Primer Magazine called 5 Reasons The Zombie Apocalypse Will Never Come To Pass. It was insightful and somewhat convincing, but at the same time, I'll admit that television shows like The Walking Dead almost make it seem so realistic that you might start to wonder. So, maybe a zombie apocalypse is possible after all. This new video by AsapScience has been creating quite a stir over the past few days. It gives a brief explanation for how zombies could actually exist and be scientifically accurate, sort of.


The thing is, zombies in the sense of dead people coming back to life are not possible. However, very alive people who exhibit a zombie-like state is possible. It would have to be caused by a very specific virus, and that virus would have to enter through our noses since our noses lead to the part of the brain which would have to be affected in order for us to transform into super hungry brain dead beings who don't recognize friends or family. Before I explain it all wrong, just watch this video. It will blow your mind, and then you might think a zombie apocalypse is possible after all. If aliens wanted to wreak havoc on our planet and change life as we know it, they could put this virus into the air for us all to sniff up. I know, it's a long shot, but you never know…

According To Science – A Zombie Apocalypse Is Possible After All

(in a weird and smelly kind of way)

AMC's The Walking Dead is one of the most popular TV shows in the world. But could the terrifying zombie apocalypse is depicts actually happen to us?

Could zombies actually exist? What would it take for human corpses to rise up and hunt the living? We often think zombies are scientifically impossible — but actually, they're just very implausible. Here's one wayThe Walking Dead could happen in real life.

To start our zombie thought experiment, we need to make some basic assumptions. First, we're ignoring all supernatural zombie origins. We're also going to set aside space radiation, mysterious comets, or Russian satellites. Our focus will be narrowed to biological origins –- a zombie contagion. Of course, there are many different zombie scenarios in books and film, and no one theory is going to cover all of them perfectly.

The first aspect of human zombification we need to tackle is basic zombie physiology. In virtually every zombie scenario, zombies are able to function despite increasing levels of physical deterioration due to injury or decomposition. There has to be some mechanism for transmitting neural impulses from the brain to various body parts, and for providing energy to muscles so they can keep operating.

The most common science fictional explanation for zombie outbreaks is a virus — but viruses and bacterial infections are not known for building large new physical structures within the body. So let's count viruses out. Instead, the need for a mechanism to activate deteriorating body parts actually provides the cornerstone of what is, in my opinion, the strongest theory: fungal infection.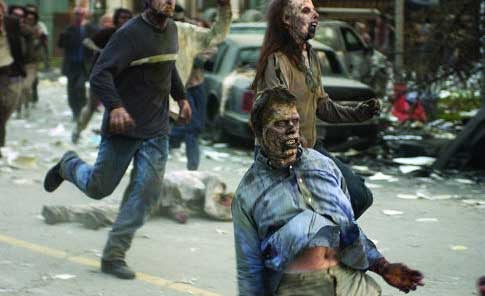 We know that fungi can infect humans. We also know that fungal networks exist in most of the world's forests. These mycorrhizal networks have a symbiotic relationship with trees and other plants in the forest, exchanging nutrients for mutual benefit. These networks can be quite large, and there are studies that demonstrate the potential for chemical signals to be transmitted from one plant to another via the mycorrhizal network. That, in turn, means that fungal filaments could perform both vascular and neural functions within a corpse.

This leads us to the following scenario: microscopic spores are inhaled, ingested, or transmitted via zombie bite. The spores are eventually dispersed throughout the body via the bloodstream. Then they lie dormant. When the host dies, chemical signals (or, more accurately, the absence of chemical signals) within the body that occur upon death trigger the spores to activate, and begin growing. The ensuing fungal network carries nutrients to muscles in the absence of respiration or normal metabolism.

Part of the fungal network grows within the brain, where it interfaces with the medulla and cerebellum, as well as parts of the brain involving vision, hearing and possibly scent. Chemicals released by the fungi activate basic responses within these brain areas. The fungi/brain interface is able to convert the electrochemical signals of neurons into chemical signals that can be transmitted along the fungal network that extends through much of the body. This signal method is slow and imperfect, which results in the uncoordinated movements of zombies. And this reliance on the host's brain accounts for the "headshot" phenomenon, in which grievous wounds to the brain or spine seem to render zombies fully inert.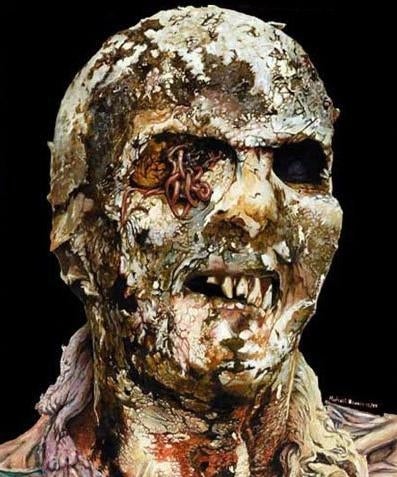 This leaves the problem of zombie metabolism. Where do the zombies get the nutrients needed to perform physical activity, plus the necessary nutrients to fuel the life-cycle of the fungi? This is most easily explained by the zombies' constant, endless drive to devour meat. The fungal network would still need some way to metabolize meat, and zombies seem to be able to function even in the absence of a human digestive system.

It is possible that this particular fungi has evolved a means to extract energy and nutrients from meat in a similar manner to carnivorous plants. The ingestion of meat may actually be vestigial, an unintended result of the drive to bite. In this case, the fungi may draw energy from the decomposition of the host's own organic material, which effectively puts a shelf-life on zombies (in addition to the deterioration of body structures beyond the point where the fungal network can compensate).

Accounts of dismembered parts moving purposefully may be apocryphal.

Now we have established a working theory for fungal zombies. How could such a disease arise? The goal of any biological organism is to live long enough to reproduce, but many pathogens are self-limited by their own lethality. The host dies before it has a chance to spread the pathogen inadvertently. This gives us two pathways for development of the zombie fungus. First, a fungal species existed that used the digestive tracts of mammals to travel. In other words, animals ingested the fungus, including spores. The spores were later defecated out in a new location. Some mutations occurred that caused the spores to gestate while still within the host. However, in most cases, the host's immune system would destroy the fungus. Further mutations could lead to spores that only trigger once the host has died, avoiding this problem.

Another possibility is a fungal infection that was highly aggressive and caused rapid death within the host. That strain was not able to successfully reproduce as often as a mutated strain that delayed activation until post-mortem.

Of course, it's one thing for a fungus to activate after the host dies, and quite another for the dead host to stand up and start attacking things. There are many evolutionary steps in between, which is why a zoonotic origin seems likely.

The precursor fungus could have been ingested by pigs, which are omnivorous. Captive pig populations, subject to overcrowding, would have been perfect places for the fungus to spread and mutate. In some poorly managed pig farms, dead pigs may have gone unnoticed, allowing post-mortem development of the fungus. Dead pigs were likely partially eaten by their living counterparts, allowing the fungal strains with post-mortem mutations to spread back into the population. The method of transfer from the pig population to the human population seems fairly obvious.

The evolution of fully mobile dead pigs probably started with a simple bite reflex that could transmit spores to nearby pigs. A bite combined with a muscular spasm, a sort of lunge, would work even better. After many generations, this developed into full post-mortem mobility. Thus, a dead host went from a drawback to an advantage, becoming a mobile platform for spore distribution. In fact, the zombie hunger drive may have originated as a spore distribution method –- only later was the ability to metabolize meat acquired. We can extrapolate this development to assume the further refinement of the fungal neural system, allowing for zombies which are far more coordinated and can run at nearly full speed.

While this type of behavior modification may seem unlikely, there is precedent for it within the animal world. Several species of parasitic wasps are able to reprogram the behavioral patterns of their hosts (bees, ants and even caterpillars), creating complex new behaviors beneficial to the wasp and detrimental to the host. While the hosts in these cases aren't dead, this does demonstrate that complex chemical overrides can evolve in nature.
The zombie Apocalypse is not only a very real possibility, I believe it's already upon us. While it might not be the typical scenario that you're used to seeing depicted in Hollywood movies, the reality of the situation is no less frightening.
Remember the Bath Salt Zombie Attacks? Well leave it to today's youth to take those drugs and glorify them as the next way to get high.
If you haven't heard of drugs like Bath Salts, Synthetic Marijuana, and Molly, it's something that you need to be aware of – especially if you have younger kids.

These dangerous drugs are being popularized and promoted by people like Kanye West and Miley Cyrus, both of whom glorify the dangerous substances in their songs. Drugs like Molly are being pitched as a pure form of Ecstasy, and these other commonly sold synthetic concoctions are being marketed as legal alternatives to street drugs. In reality, most of these substances are the same chemicals that have caused people to go crazy and literally try to eat other people's faces off.
This isn't a science fiction movie; It's reality.




Our society has degraded so far down into the gutter that today's youth will do anything to escape from reality, including taking drugs that are literally turning them into real-life walking zombies. It's really a sad state of affairs, but it should serve as a wake-up call to those who are still in denial as to where our society is heading – The Zombie Apocalypse.

I know that's ridiculous right? Wrong!


Now I'm not talking about the Walking Dead here. I'm talking about real-life zombies who are so whacked out on drugs, television, our sick society, and countless other degenerating factors, that they have morphed into mindless soulless beasts that no longer care about their fellow human beings.

Think I'm exaggerating? Have you taken a good look at society lately? People are literally willing to literally kill each other over an iPhone. Forget the mindless idiots who sit in line for ten hours when the stupid phone hits the market – because heaven forbid they be caught walking around with a phone that's more than 6 months old – people are actually killing each other over iPhones.

But it's not just iPhones; it's our whole sick society. We have a culture that's become obsessed with anything immoral, and everything violent.

If you think the Zombie Apocalypse is just science fiction, take a look at what's happening on the streets of Chicago. In my opinion, Chicago is a thousand times worse than a Zombie movie, and it could be a good look at what our future has in store for us.

Last year alone, over 500 people where mercilessly gunned down in the streets of Chicago. Many of these people were killed simply for walking over some imaginary line in Chicago's notorious gang filled neighborhoods.

While some would like to pass these incidents of as anomalies, or something that only affects urban areas, the problem is much more than an inner-city problem.

This culture of violence has invaded every aspect of our lives. These aren't poor urban kids in some neighborhood that you'll never have to walk through; these are people of every race, and from every corner of America. Watch the first five minutes of your local news tonight, and then tell me I'm wrong.
The Zombie Apocalypse is Here, and it's only going to get Worse.

In my opinion, our society is just one disaster away from total collapse. Take a look at disasters like Hurricane Sandy and Katrina, and then imagine what would happen if our country was to face a similar, but prolonged nationwide disaster.

It's not the Walking Dead who you're going to have to worry about.
It's the 70% of Americans who rely on prescription drugs to function; the ones that will be going through massive withdrawals once they can't obtain their medications.
It's your neighbors who will be killing each other for food and water; because they thought watching reality T.V. was more important than preparing for what's coming.
It's the over 50% of Americans who depend on Government assistance to live.
It's the unprepared masses who are so reliant on modern technology that they actually admit theywouldn't last over 2 weeks without electricity.
It's the average American Citizen who has forgotten the skills they need to survive without running to the local Walmart.

Did you know the average American spends more than 40 hours a week watching TV? That's more time than someone spends working at a full-time job! According to a study commissioned by Nokia, the average cell phone user checks their phone at least 150 times a day, or approximately once every 6 minutes.

But it's even worse when you take a look at the next generation, who spends more than 71/2 hours a day consuming digital media. Is it any wonder why society is devolving into a bunch of zombies? We have a world full of people who have literally checked out of reality.

Yes folks, the Zombie Apocalypse is here; unfortunately the zombies aren't slow, and they're not dead.
So What can you do to Survive the Zombie Apocalypse?
Take the threat seriously. I know we've had a little fun here using the Zombie Apocalypse to illustrate the problem, but nevertheless, the problem is serious and it affects us all. Don't forget, during a disaster people (especially the Zombies) are going to be one of the top threats you face.
Don't be a Mindless Moron. Preparedness is the key to staying alive during any disaster. If you spend most of your time playing video games, staring at a screen, or whacked out on some type of drug, you might want to rethink your choices. Don't let yourself become one of the zombies.
Do Something to Prepare. From learning how to hunt and fish, to taking a weekend hike or camping trip, there are a million fun things you can do that will also help prepare you for tough times.
Pay Attention to Your Kids. If you have kids, please pay attention to what's actually going on around them. The amount of harmful garbage they're exposed to on a daily basis far exceeds what most of us experienced throughout our entire childhood.

It's the question that's haunted moviegoers since George A. Romero's 'Night of the Living Dead' crystallized the modern zombie myth in stark monochrome back in 1968: Does mankind face extinction at the hands of zombie apocalypse?

AMC's 'Fear the Walking Dead' is the latest take on the fictional disaster that may or may not face mankind and Dr. Ben Neuman, a professor of virology at the University of Reading, says the idea of a zombie outbreak is actually not as far-fetched as you'd hope.

"There are parasites out there that get close to making actual walking around zombies," explains Dr. Neuman, "But the real weirdoes locked up in Mother Nature's basement are the viruses. There are more viruses out there than we will probably ever discover and I bet that somewhere out there in nature something like this is happening."

"If you look at rabies, it completely changes the way a dog behaves. It's transmitted by bites, it leads to madness, convulsions, and so it's not really that far-fetched."

Where could it come from?

In 'Fear the Walking Dead' the dead are brought back to life by an unknown pathogen, but in the movies it's often a tinkering scientist that unleashes a manmade virus.



Fortunately, Dr Neuman says the technology to engineer a virus is actually a long way off in reality. But, he adds that the sheer volume of naturally occurring viruses already on the planet make that a much likelier source for a real zombie outbreak.

"There are about 10 viruses out there for every living plant, animal and cell on earth and every one of those can have strange, unintended consequences if it gets into the wrong place. The only way you'd find out is when it happens."

"You want to watch out for is monkeys behaving oddly. If monkeys start going crazy and doing very strange things there may be an infection behind it and that's the one we'd have to watch out for."

How quickly could it spread?

Despite what films like '28 Days Later' or Zack Snyder's 'Dawn of the Dead' remake suggest, the reality of a zombie outbreak that spreads through bites, is that it would probably spread slowly like ebola. This would make containment a lot easier than you may expect.

More News Here Breaking News World News

Science News
Tech News
Politics
Health News
Weather
Android
Paranormal News
UFO News
Games
Video Gamer
Funny
Videos
GIF
Nature
LIKE US ON FACEBOOK
News Just For You on Facebook
Cyber Network News on Facebook
Quantum Science News on Facebook
Awake News on Facebook
Paranormal News on Facebook
UFO News on Facebook
Neural Network on Facebook
FML on Facebook
Dark Humor on Facebook
Health News on Facebook
Weather News Facebook
Android Lover on Facebook
Nature on Facebook
Follow Us on Twitter
Advertise with us
Can't Find it? Try our Search