The Slender Man is an alleged paranormal figure purported to have been in existence for centuries, covering a large geographic area. Believers in the Slender Man tie his appearances in with many other legends around the world, including; Fear Dubh (or, The Dark Man) in Scotland, the Dutch Takkenmann (Branch Man), and the German legend of Der Großmann or Der Grosse Mann (the Tall Man).
Contents[
show
]
Appearance
The Slender Man is a being (male in appearance) who looks like a man with extremely long, slender arms and legs. He also appears to have 4 to 8 long, black tentacles that protrude from his back, though different photographs and enthusiasts disagree on this fact, and therefore it is theorized he can 'contract' these tentacles at will.
He is described as wearing a black suit strikingly similar to the visage of the notorious Men In Black, and as the name suggests, appears very thin and able to stretch his limbs and torso to inhuman lengths in order to induce fear and ensnare his prey. Once his arms are outstretched, his victims are put into something of a hypnotized state, where they are utterly helpless to stop themselves from walking into them.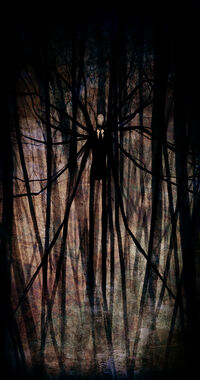 He is also able to create tendrils from his fingers and back that he uses to walk on in a similar fashion to
Doctor Octopus
. The superhuman stretching ability could also be seen as a similarity between himself and
Mr. Fantastic
.
Whether he absorbs, kills, or merely takes his victims to an undisclosed location or dimension is also unknown as there are never any bodies or evidence left behind in his wake to deduce a definite conclusion.
His face is pale and slightly ghostly, and almost appears to have been wrapped in a type of gauze or cloth. his facial features are also an object of debate, and many people believe that his face looks different to each person, if it is seen at all.
He sometimes is portrayed wears a hat, which is sometimes a bowler, a fedora, or sometimes a tophat. He may also be seen wearing a long flowing necktie or scarf, which is either red or grey.
He often keeps his long, pale hands crossed politely behind his back or hanging loosely at his sides. His suit is black, sometimes portrayed as pinstripe in artwork, a common misconception thanks to the very similar Jack Skellington from Nightmare Before Christmas. He has long coattails which he lets flow proudly. He wears long dress shoes, which are always shined a perfect, gleaming black.
Behavior
Much of the fascination with Slender Man is rooted in the overall aura of mystery that he is wrapped in. Despite the fact that it is rumored he kills children almost exclusively, it is difficult to say whether or not his only objective is slaughter.
Often times it is either reported or recorded that he can be found in sections of woods, and these generally tend to be suburban. He also has been reported seen with large groups of children, as many photographs portray. It is commonly thought that he resides in woods and forests and preys on children. He seems unconcerned with being exposed in the daylight or captured in photos.
It is often thought as well that he enjoys stalking people who become overly paranoid about his existence, purposefully giving them glimpses of himself in order to further frighten them. For this reason, it seems like Slenderman very much enjoys psychologically torturing his victims.
He also often appears to float or drift around rather than walk, which suggest the possibility of him being an ethereal being rather than a creature or a man. This would also explain why he is able to remain mobile in spite of his poorly proportioned body.
Even though Slender Man was fabricated on SomethingAwful forums (or was he?), some people have already claimed sightings. He is seen mostly at night peering into open windows and walks out in front of lone motorists on secluded roads.
His main intentions appear to be kidnapping children, as when he is seen near them in photographs, they usually disappear shortly afterwards. The Slender Man has also inspired many stories such as those of Marble Hornets.
In the end though, his purpose remains unknown.
An interesting take on Slender Man by a pasta member who is relying on the Marble hornets series for evidence/facts:
"There has been a big misconception about my pal the Slender Man due to the appearance of this article. He does not have hair or a face. Everything else is correct. There is also some questioning as to whether or not there is more than one. I find that unlikely. It's most likely Slendy fucking with your head in order to make you think that there is more than one, which he has been known to do. As of now, Slendy has 3 or 4 known accomplices.
These are Hoodie, Maskie, The Rake and possibly The Observer. Not much is known yet because the next episode of the Noah Maxwell ARG has not yet been released. In the Marble Hornets ARG, Hoodie and Maskie are possibly his followers. In the Everyman HYBRIDS ARG
the Rake
seems to be working with him, but we aren't really sure if that is true or not."
Historical References
Brazilian Cave Paintings
The earliest argued reference to the legend is within the cave paintings found in the Serr da Capivara National Park in the Northeast of Brazil, which are believed to date from as far back as 9000 BC. These paintings show a strangely elongated character leading a child by the hand, but make no reference to the extra appendages.
Egyptian Hieroglyphs
The next known possible reference to the Slender Man comes from around 3100 BC in lower Egypt, with references to the "Thief of the Gods" or the "Thief of Kuk" becoming common place during the reign of Pharaoh Wazner. Hieroglyphic carvings representing the Thief were found in the pharaoh's tomb, who was rumored to have had some kind of encounter with the entity. The carvings resemble a strange figure with multiple upper limbs, one that has never been found in any other hieroglyph language.
German Woodcuts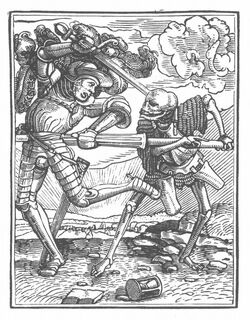 Renowned German woodcutter Hans Freckenberg created at least two woodcuts featuring a character he described as Der Ritter (The Knight) during the mid-sixteenth century that were discovered in Halstberg Castle in 1883.
Whilst Freckenberg was well-known for his realistic depiction of human anatomy - something that was unusual among woodcuts of the time - these pictures featured a skeletal, multi-limbed character.
Historians are unsure of the exact symbolic nature of the character, with some claiming that it is a personification of the religious wars that raged in Europe at the time, while others say it represents the mysterious plagues that have been believed to be the reason for the mysterious abandoning of the Hastlberg Castle and the nearby village in 1543.
However, many insist that Freckenberg was attempting to represent "Der Großmann" (the Tall Man). According to legend, he was a fairy who lived in the Black Forest. Bad children who crept into the woods at night would be relentlessly chased by Der Großmann, who wouldn't leave them be until he either caught them or they were forced to tell their parents of their wrongdoing. Even then, there is a chilling account from an
old journal
, dating from about 1702:
"My child, my Lars… he is gone. Taken, from his bed. The only thing that we found was a scrap of black clothing. It feels like cotton, but it is softer… thicker. Lars came into my bedroom yesterday, screaming at the top of his lungs that "The angel is outside!" I asked him what he was talking about, and he told me some nonsense fairy story about Der Großmann.
He said he went into the groves by our village and found one of my cows dead, hanging from a tree. I thought nothing of it at first… but now, he is gone. We must find Lars, and my family must leave before we are killed. I am sorry, my son… I should have listened. May God forgive me."
Romanian Mythology
There is also a Romanian fairytale which tells the legend of the
Tall Man
, featuring this description which may have taken to refer to the Slender Man
"The tall man stood in a clearing, dressed as a nobleman, all in black. Shadows lay over him, dark as a cloudy midnight. He had many arms, all long and boneless as snakes, all sharp as swords, and they writhed like worms on nails. He did not speak, but made his intentions known,"
In the fairytale, the Tall Man causes a mother to kill her husband and child, before he slid from a fireplace and "clenched her in his burning embrace."
English Mythology
There is also an english myth referring to the "Tree Man", whom is said to have a slim body with apendages that looks like tree branches.
He is only known to be seen in the woods and was used as a story that parents told their children to thwart bad behavior. There have been quite a few disappearances of children that have been said to be linked to the "Tree Man".
The Slender Man (also known as Slenderman) is a supernatural creature with nebulously defined characteristics and abilities. Slender Man was first mentioned in Something Awful Forum's "Create Paranormal Images". Slender Man generally appears (in modern times) as a tall man in a black or grey suit, red or black tie, and white shirt, with no eyes, mouth, or clearly defined facial features. It has no hair, and generally has normal-looking bare hands, albeit with fingers longer and bonier than a typical human. Slender Man is typically depicted in imagery and literature as between 6 and 15 feet tall, depending on the situation, and in video as around 6-7 feet tall. Because of its inexact nature, and differences between series, no one has yet determined what it is. Currently, the two leading theories as to what the Slender Man may be are
the Tulpa Effect
and
Quantum Theory
.
The internet popularity of Slender Man has spawned a massive amount of interconnected ARGs, collectively known as the Slender Man
Mythos
.
Contents[
show
]
Basic Description
01:16
LORE - Slenderman Lore in a Minute!-0
In almost every description Slender Man's basic attributes will vary greatly, however several basic traits are typical of his behavior. He is shown to behave in a very passive aggressive manner, stalking targets for years at a time, torturing his target mentally for various unknown reasons. He is rarely ever shown in a benevolent light and is typically shown as a malevolent force. This behavioral pattern has an uncertain reasoning behind it, and exactly why he behaves in such a way has yet to be fully ascertained.
The most important factor about Slender Man is the mystery. He lives unlike any human being despite having a similar appearance to one. It is uncertain if he is social, or even understands human languages or behaviors, nor why it is humans appear to be his main target. His targets will typically behave in off ways as if possessed, but whether their psychosis is causing them to speak for him or for themselves isn't entirely certain either.Slender Man's appearance is variable as the years go on, but as of to date the most recent appearance is that of an abnormally tall human with long arms and no face whom is wearing a business suit. Again it is uncertain if his suit is real cloth or some form of skin molded into such an appearance. If it is the former, this would imply an intelligent being attempting to try to blend in. If it is the latter, it shows a being whom is extremely adaptive and evolves to match his environment and stick out less (or more).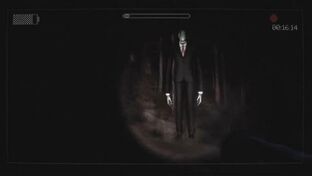 Slender Man's appearance provokes a wide range of responses, the most common being fear. This is partially due to his extremely towering size over a full grown adult, which mimics the childhood fear of adult humans bigger than the child. His behavior also factors into it. Finally, the main fact is he is completely unable to be described in human terms. While a description in words can be given, human language lacks the ability to truly define the entity until such a time as when humans can interact with him (if at all possible). This problem stems from the fact that he operates in a plane of existence further from humans. This is believed to be fourth dimensional space which gives him powers a human cannot understand due to humans living in three dimensions of space and being unable to comprehend the fourth dimension at this time.
In total two major types of Slender Man descriptions exist. The original versions depict him as not only malevolent, but extremely dangerous. He will do odd things such as removing organs and placing them in bags, impaling targets on trees, and aggressively stalking targets after a period of time. A contemporary depiction shows Slender Man as being extremely passive aggressive, often letting a person slowly delve into madness at their situation until being unable to cope. If invited to anger, he will typically charge a target down until caught and vanish with them to unknown locations. This version also shows an odd response to electronic equipment and causes massive problems with audio, surveillance, camera, and other various electronic devices with displays or audio. Sometimes an individual can determine if he is near simply by how certain electronics react such as radios, televisions, or cameras. How powerful this effect is seems to vary, and can either be due to Slender Man's own state of aggression, or other outside factors either inside or beyond Slender Man's control.
Here Are New Ways To Expand Your Personal Finances
It's a great time to refresh your own personal finance knowledge so you can go into the new season feeling secure and confident about your moneyPromoted by Transamerica
Abilities
Main page:
Abilities of the Slender Man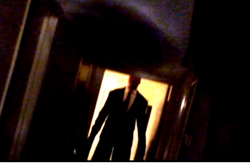 An example of the Slender Man's Impressive height.
Slender Man's original abilities included invisibility to select people, adult humans, or anyone without use of a camera, the ability to change height and body shape, the ability to shape its arms into tentacles, and the ability to sprout tentacle-like appendages from its back and shoulders to be used as additional arms or legs (or simply to instil fear into its prey). Many stories seem to indicate that it can control a person's mind, which became the basis for the
Proxies
in the video
ARG
, a trend that would later spread to
Slenderblogs
. Slender Man also had connections to children, with many of the original stories revolving around disappearing children or featured Slender Man being sighted in photos with children.
As more stories came forth, however, the use of tentacles and tentacle-like appendages became less common, and the invisibility was limited or eliminated depending on the storyteller.
EMH
,
TT
,
ML
, and
DH
all contain some sort of video and/or audio distortion, indicating that Slender Man has some sort of effect on modern digital instruments. This does not appear in any of the original accounts- however these mostly make use of photographs and video of primarily lower-tech varieties. EMH has applied this distortion to be the effect of
Sigma Radiation
, a radiation given off by Slender Man and the
Rake
. Sigma Radiation is also contagious, as it entered
Evan
's blood-stream when his arm is brutally maimed by The Rake
EMH and
ML
also make use of "
Slender Walking
", a term created to describe Slender Man's apparent teleportation, appearing, and disappearing at will. EMH independently indicates the use of selective invisibility to groups or individuals through head tilting, and also spacetime warping/teleportation between locations. Similar abilities were seen in early Slender Man accounts. EMH also hints at the affecting of mental health or control of it.
Canon History and Information
See page:
Slender Man in Mythology and Culture
For any Non canon abilities and descriptions, please see
Unconfirmed Slenderman Assumptions
Slender Man has no exactly defined or specified history, however contributors have placed early sightings of Slender Man-like beings in early 1600s Germany and before, where it took the dress of a knight or royal figure. Germanic fairy tales and mythology also makes use of the creatures to be used as cautionary tales for children.
Photographs from the early 1900s were the next confirmed reports, where imagery of Slender Man can be found in classical black and white and sepia imagery. Reports from this time indicate sightings in America, the UK, and Russia, as well as reports of child disappearances.
By the mid-1900s, some rare run-ins occurred in the war zones in Germany, apparently Slender Man's native land. Soldiers were the primary targets here. In America and Canada, reports of missing skiers and children appeared, coming from forested areas of the nations.
After a spree of building burnings from unknown causes, several deaths and a few surviving witnesses, it could be gathered that the Slender Man had the following traits:
Slender Man will find interest in a victim for reasons unknown
It would then contact the victim, if it is a child, presenting itself as friendly
The adults he stalks have a common trait: they have all been through a terrible tragedy in their life, even if the tragedy was made by Slender Man directly
If an adult, it would stalk the victim for long amounts of time causing what is known as "Slender sickness" causing massive paranoia, nose bleeds, nightmares, hallucinations appearing to only the sick person, and many other dangerous symptoms.
Eventually, it would abduct the victim into nearby forest, where they would be killed.
In 'messy' cases, it may remove evidence of its existence by causing fire of their home, place of work, or school
Death of the victim originally occurred through an odd means- the victim would be impaled on branches of very tall trees while still alive, and bleed to death. The organs would be individually removed, then placed in plastic bags. They would then be replaced into the body in their original positions, plus the plastic bags. The victims' corpses do not show any sign of a struggle. As time has gone on, this practice has seemingly been abandoned.
In the late 1990s, technology shed more light on the creature through the use of commonplace cameras and camcorders. Slender Man was recorded and photographed stalking potential victims many times.
In the late 2000s to early 2010s, several individuals recorded ongoing stalking and attack scenarios of themselves and their friends. These video accounts are codenamed
Marble Hornets
,
EverymanHYBRID
,
DarkHarvest00
,
MLAndersen0
, and
TribeTwelve
. As well as certain
Rivn
videos.
The new foray into Slender Man's powers, abilities, and attacks have shown drastic difference from his original behaviors. The original desire to impale targets on trees, his rather aggressive attitude, and attacking mainly children have been altered. It appears he seems to enjoy targeting humans who have seen him in childhood and following them for years. He appears to do so in such a way that the target is unaware of his presence for potentially months, years, or even decades, and typically won't be aware at any point in time until it is far too late.
His behavior is extremely passive aggressive, where he stalks, follows, and torments an individual by repeatedly showing his presence. He will typically do so in invasive ways, such as appearing inside someone's house, outside their home, on roads they travel, at their place of work when they are alone, or while the target is sleeping. This will create a general unease of the target, as the invasion of an entity in their own safety zone will begin sparking incredible paranoia. Most often he won't attack the target for extended periods, instead just following the target and tormenting them. This period can last anywhere from several minutes to years.
The behavior of taking organs out or impaling targets have been long forgotten. If his new modus operandi is to be believed, the target is taken away with no traces whatsoever. The target will never be found, nor are any traces. Thus his new method of killing targets is unknown, as no victim is ever found. The victim will typically disappear by him/herself, thus these attacks are unrecorded and unknown. What little camera footage has been found shows incredible distortion on them in typical cases, making it nearly impossible to understand exactly what he has done. To date it is unknown where his victims go, or what he does with them after this.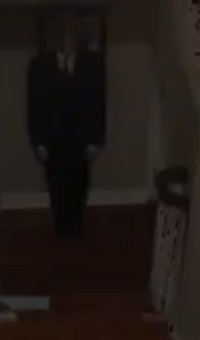 Slender Man at the bottom of the stairs in EMH
One of the most powerful new traits Slender Man will typically employ seems to be some form of inhibiting memory loss. Like Slender Sickness, this effect can be nearly immediate just on close contact with him, although it seems to vary as to exactly how powerful. In some cases individuals will forget the past few minutes, however extended contact has led people to awakening in locations they are uncertain of due to running from Slender Man and their brain beginning to write memory and restore consciousness after a given period of time. In some cases, it is believed Slender Man himself will deposit a victim in an unknown location and leave them to awaken after an attack (possibly to continue stalking them some more). This effect is akin to Slender Sickness, but is the most powerful effect of the sickness to date.
Victims of extended periods will note excessive damage to their social, physical, and career life. Typically individuals will show massive moods swings and constant irritation, not to mention will lose track of large periods of time, making communication with friends or holding down steady work difficult, as memory losses could be as long as several weeks or months until the individual awakens and attempts to return to their life only to find it ruined. Despite this, Slender Man will continue his behavior.
He lurks in the background of gritty black-and-white photos — a gaunt, too-tall figure with skeletal limbs. Some say he lives in the woods and eats children, a kind of demon descended from eastern European myth. Some say he stalks human prey indiscriminately, wherever he can find it: in basements, outside half-open windows, along lonely streets late at night when only occasional headlights cut across the road.
Some say he has no face. Others, that his face looks different to everyone who sees it. But whatever they say, everyone generally agrees on one point: that Slender Man, perhaps the Internet's best and scariest legend, is indeed a legend — an invented character who can be traced back, quite linearly, to an obscure forum where in 2009 users Photoshopped old pictures and improvised a back story for their creations.
Tragically — and chillingly — two 12-year-old girls in Waukesha, Wis., seem to have missed all of that. On Saturday, according to local news reports, the girls lured a friend into the woods and stabbed her 19 times
in some kind of tribute to Slender Man
. The girl they stabbed is hospitalized in stable condition. The perpetrators will be tried as adults.
"Many people do not believe Slender Man is real," one of the girls said, according to the criminal complaint. "[We] wanted to prove the skeptics wrong."
But as dozens of forum posts, newspaper articles and a handful of academic papers show, there's nothing to prove. Slender Man is a fascinating case study in the creation and codification of Internet myth. And at the end of the day, that's all it is: a myth.
The invention of a "mythological" monster
In the myth, Slender Man has many origins: Germany's Black Forest. Ancient Egypt. Cave paintings in Brazil purportedly depict his movements.
In real life, the story begins in the forums of
Something Awful
, a humor site for people who enjoy joking about things like Dungeons & Dragons, porn and 3-D printers. But the forums can take trickier turns — they're well-known for tricky Photoshopping and general prankery. On June 8, 2009, a new forum thread invited users to "create paranormal images through Photoshop," which many users did. But the creation of one user, Victor Surge, struck a particular chord: He posted two photos of children haunted by a tall, shadowy figure with tentacles for arms, along with blocks of ominous text:
we didn't want to go, we didn't want to kill them, but its persistent silence
and outstretched arms horrified and comforted us at the same time . . .
1983, photographer unknown, presumed dead.
For weeks, Surge continued posting doctored photos, newspaper clippings and child's drawings of Slender Man, gradually pulling other users into the myth. They contributed their own Photoshops and stories, drawing parallels to older legends and nudging the story along. By mid-June, the thread was solely devoted to developing the mythos of Slender Man, which now — at least according to one authoritative PDF — runs 194 pages long.
Because Slender Man was developed collaboratively, by a community of anonymous contributors, that mythos is spotty and varied — much like a more organic urban legend would be. In some stories Slender Man has multiple arms, like tentacles, and in some he has no extra appendages, at all. Sometimes he seems to kill his victims themselves, in vague, mysterious ways that the faux news stories and police reports never seem to specify, before disemboweling them and bagging their organs. Other times, Slender Man somehow compels his victims to kill each other — a particularly grim plot line, given the recent attack in Wisconsin.
In one of the faux news stories, a horse farmer named Ted Henderson shoots his wife in the chest at the Slender Man's behest, only explaining the crime to his psychiatrist at a mental institution three years later.
TED: Ran… ran inside… got gun… Tracy crying… Judi screaming… r…ran to them… He had them… was holding them…
DAUTON: Who had them?
TED: Skinny fella… suite… Looking at me… Judi screaming… shoot me… SHOOOT ME SHOOT MEEEE!
"Tracy," the couple's six-year-old daughter, is never found.
How a horror story becomes a legend
That vagueness — the infinite mutability, the fuzzy details, the ability to adapt Slender Man to just about any time and place — is a large part of what pushed the story off the Something Awful forums and into the Internet mainstream. Slender Man gradually spread onto other niche forums, like 4chan's paranormal board. From there, it would inspire a popular horror Web series called
Marble Hornets
, several indie video games and an untold trove of submemes and fan art, as well as earn prominent pages on Wikipedia and
Creepypasta
, a site dedicated to Internet horror stories. Creepypasta is, according to
the Milwaukee Journal-Sentinel
, the place where the Wisconsin girls first read the story of Slender Man.
By 2011, the legend had become so deeply embedded in the Web — and so divorced from its blatantly fictional origins — that even its original creator, Victor Surge, couldn't believe how much it had spread.
"I didn't expect it to move beyond the SA forums," he said in
an interview with the Web site Know Your Meme
, later adding:
An urban legend requires an audience ignorant of the origin of the legend. It needs unverifiable third and forth [sic] hand (or more) accounts to perpetuate the myth. On the Internet, anyone is privy to its origins as evidenced by the very public Somethingawful thread. But what is funny is that despite this, it still spread. Internet memes are finicky things and by making something at the right place and time it can swell into an 'Internet Urban Legend'.
That same year, the Minneapolis Star-Tribune
reported an entire feature
on "the Internet-concocted creature… scaring today's teens silly." Only two years had passed since Surge invented Slender Man, and its origins, the Tribune ruled, were already "difficult to pinpoint."
The Internet is 'full of wicked things'
That obscurity is, of course, responsible in part for Slender Man's scariness: It appears to eliminate the fourth wall entirely, making Slender Man less a ghost story and more a plausible entity. The further the myth gets from its origins, the easier it is to sift out truth from fiction. "The Blair Witch Project" used some of the same techniques.
And yet the character's appeal goes far deeper than that, says Shira Chess, an assistant professor of mass media arts at the University of Georgia and a scholar of the Slender Man myth. In fact, Chess is unsurprised that people, including teenagers, frequently buy into the Slender Man myth — in short, we're hardwired to believe.
"We tell ourselves stories because we (humans) are storytelling animals," she wrote in an e-mail. "And, to that end, horror stories take on a specific significance and importance because they function metaphorically — the horror stories that are the best are often metaphors for other issues that affect our lives on both cultural and personal levels."
Slender Man, Chess says, is a metaphor for "helplessness, power differentials, and anonymous forces." He's an infinitely morphable stand-in for things we can neither understand nor control, universal fears that can drive people to great lengths — even, it would appear, very scary, cold-blooded lengths.
For whatever reason, Slender Man does seem to have resonated particularly among teenagers; perhaps that's the demographic most susceptible to scary stories, or perhaps they're the people frequenting sites like Creepypasta most often. (Creepypasta, for its part,
released a statement
early this morning expressing its condolences over the Wisconsin incident — and reminding critics that the site exists to share scary fiction stories, not to encourage any actual, real-life scares.) But the girls in Wisconsin, at least according to statements they made to police, truly believed Slender Man was real: He teleported and read their minds, they claimed. He watched them and threatened to kill their families.
"They hoped [their friend] would die," Ellen Gabler wrote in the Journal-Sentinel, "and they would see Slender and know he existed."
But Slender doesn't exist — at least not outside of the YouTube videos, wiki pages and horror forums that have grown up around him.
Said Russell Jack
, the police chief in Waukesha, "the Internet can be full of dark and wicked things."